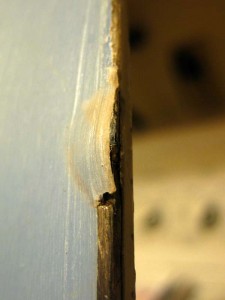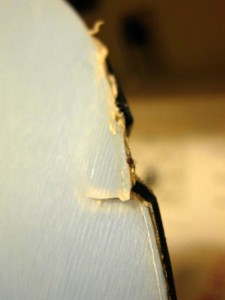 With the March Japan snowboard adventure looming, it was time to get the boards back in shape. Early season and peak winter trips to Whistler had wreaked havoc on the boards due to the marginal conditions.  I am not sure what the conditions will be like in Japan next month, so I had to get both boards ready just in case. The short board had a base gouge and trashed edges, so that was an easy fix – just some P-tex repair filler and liberal filing and sharpening, followed by a rewaxing. The powder board was a different story. The edges were pretty much intact, but there was a base delamination bubble just forward of the end of the metal edge, and a 9mm x 12mm triangular smash on the nose with a tear in the base.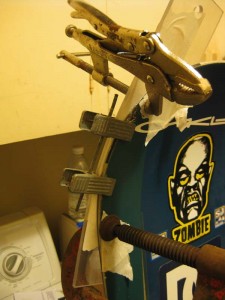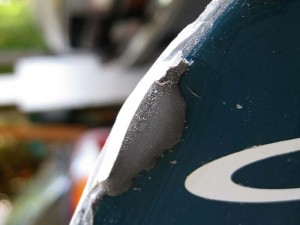 After dressing the edges of the tear and making a hole at the end to diffuse the stress riser and prevent further tearing, I mixed up some high strength epoxy and spread it into the bubble and the split. Luckily the base fiberglass was still present at the tear, so there was something to hold it together. Using my base scraper, I clamped the repair to hold the bubble closed and hold the edges of the tear in alignment. After the epoxy had cured for six hours, I removed the clamps and filled in the void with some JB Weld and allowed it to harden overnight.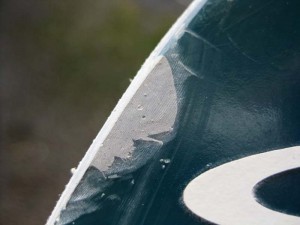 This morning, I ground the filler into shape with a Dremel sanding drum and needle files. I smoothened out the edges of the base tear and leveled out the bubble with the sanding drum before taking the Sandvik scraper to it, followed by restoring the rilling with the edge of my edge tuning file. A quick rewaxing finished the job. All set to go!
Difficulty – moderate
Time: repair – about 1-hour actual working time plus epoxy curing time, say overnight. edge tuning & waxing – about 1-hour
Tools required:
clamps
Dremel tool with sanding drum
files
metal base scraper
snowboard tuning & waxing tools
waxing iron
Supplies required:
high-strength epoxy
JB Weld or epoxy filler
masking tape
snowboard wax and related consumables
Here's the finished base repair: