Sunday! Sunday! Sunday! It's SCCA Test and Tune day at the stadium! A day for all the SCCA geeks (and geekettes) to bring their cars out and drive them all day on the course. The weather was clear, and hot. I see many a lobstered racer tonight! It was a full house for the entire day, so turnover was kinda slow, sometimes almost 30 minutes between runs, but it was enough time to weight my car, and get in about 7 runs. Enough to start to get a feel for the car, get the tire pressures sorted, discover that this Corolla is fun, and get an unexpected kustom tuning job.
My first two runs were cautious and quite slow, 39 seconds on a course with Fastest Time of Day in the 30 second even range. From about the third I started to get a feel for the new car. Also noticed an thumping noise in certain direction turns. Perhaps some tire contact, or suspension bushings need replacing, I thought. Also there seemed to be issues with acceleration and engine surging. I'm suspecting a sliping clutch, or it was just the rear tire spining out and I'm not used to that feeling. In any case, my times were quickly dropping, and I was gaining an appreciation for this humble little econobox with sporty trappings.
It's not much to look at. It doesn't have a huge amount of power at just over 100 hp. It doesn't have a sophisticated suspension with it's MacPherson strut front and five link solid axle rear. But something came together with it's weight, size, revy engine that makes this a great fun car. It's underpoweredness makes it a great learner, you don't get yourself into too much trouble too fast. I was surprised at how controlable the stock GT-S suspension is. It didn't feel like it was wallowing and transitions felt smooth.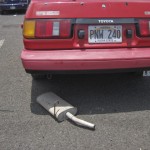 Somewhere around the end of my third run, I finished and heard some more thumping coming from the back, and this time I was just driving back to my pit area. As I pulled in, my neighbors told me my muffler was hanging on by a thread. And indeed it was, hanging on by a single hanger. That solved that mystery.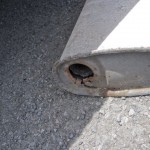 The inlet had rusted out and all the shakin going on had finally broken it loose. Hm, race tuned exhaust system! Open pipe! Blaaaaaap!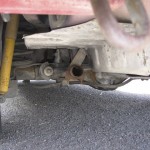 Maybe it was just a sound illusion, but felt like had more power! Anyway, I did the rest of my runs with the open pipe blaring away, and cut my times almost every run by anything from .1 to .4 seconds. My last run was an even 37.0 seconds. I was feeling pretty satisfied with my ugly duckling. This RWD thing is too fun! Looking forward to racing it more, but I'm going to have to do something about the exhaust, next event is next week already!?