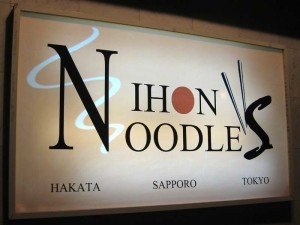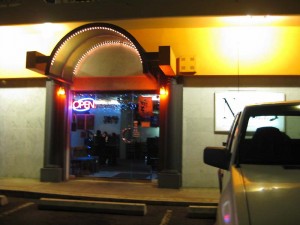 After work tonight, Root and I stopped by Nihon Noodles on South King Street for dinner. Located in the building where Bunmeido used to be, this ramen shop opened recently, and only came to our attention a couple of weeks ago. Sharing parking with a couple of bars, the small parking lot was full to over capacity with double-parked cars. We luckily found street parking. Keep this in mind when you come here. Outwardly, the storefront didn't really match the ramen shop atmosphere, and on entering, the interior was even more unnatural. White marble walls and dark marble tables with indirect lighting and icicle Christmas lights seemed more at home in a lounge or bar. Perhaps when they moved in, they inherited the décor from the previous occupants. We were seated quickly and given water and menus. I wanted the Hakata ramen, but I figured I'd try a combo to get a taste of some of their other offerings. My Noodle Combo came with three "Yokohama gyoza", a mini curry rice, and a standard size bowl of Hakata ramen for pennies under $11 USD. The ramen alone would have been about $8 USD.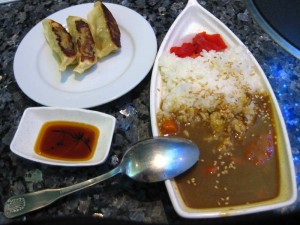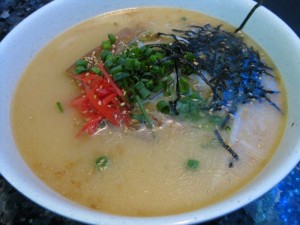 The curry rice was a nice side. The curry was well prepared and tasty. There were some good-sized beef chunks that were soft beef – no gristle, weird connective tissue, or strange membranes. A sprinkling of shiro goma (white sesame seeds) was a nice touch. I give it a B+. The gyoza was prepared correctly – pan fried – and were on the better side of good, a solid B. The ramen was hot and flavorful. The noodles were thin, but a little soft – I would have preferred them a hair firmer. The noodles were topped with good sized portions of kizami beni shoga (julienned pickled red ginger), menma (seasoned bamboo shoot slices), chasiu (Chinese-style braised/roasted pork), moyashi (mung bean sprouts), nori (laver seaweed sheet), and finely chopped green onions. The chasiu was actually made from a high-grade cut of pork that was somewhat fat-free. At first this seemed a little odd, but since the broth was so rich, the lack of fat in the pork was quickly forgotten. The thick pork-bone broth was very good and had no heavy fat taste, nor a burnt bone bitterness. This was one of the better tonkotsu ramen that I've had, and that includes what I've had in Japan! I give it an A.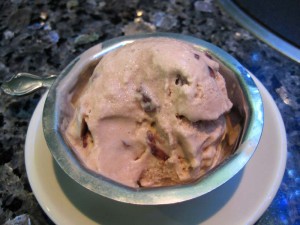 I had broken a sweat eating the hot, rich ramen in the insufficiently air conditioned place, so when it came time for dessert, I went for the azuki bean ice cream. It arrived partially soft. There were some good ice slabs in it, and the parts that weren't melty were crystallized, indicating poor handling and excessive age. The $2 USD ice cream gets a D. Definitely pass on this one.
Root got a sampler set that had mini sized servings of Hakata, Tokyo, and Sapporo ramen. It was interesting (and also indicative of the commitment to quality) that the noodle shapes and thicknesses were tailored to match the different broths and were all different.
About $16 for meal and dessert, including tax and tip
Recommended
Three-and-a-half out of four dining monkeys