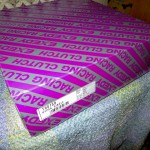 then it's worth overdoing. This past friday I picked up my Exedy Hyper Single clutch kit, part #TH01SD (note that it is speced for later 4AGE so does not include the pilot bearing). Since I have the engine and tranny completely out of the red Corolla, figured might as well change out the clutch. And since this is supposed to be my weekend fun and race car, why not go for something a bit more uprated. I have what Exedy considers their "Stage 1" Sport clutch in the FX right now and with the lighter OEM last gen 20 valve flywheel it's pretty nice and I kill the engine only a couple times a week. What the heck, skip Stage 2 and go right for "Stage 3".  A set with a lightweight chromoly flywheel, forged aluminum clutch cover, and 6 puck cerametalic friction pads. Flywheel is about 9 lbs compared to the original stock of 16. Cover, pressure pad assembly is a pound or so lighter. We shall see how dramatically different this feels.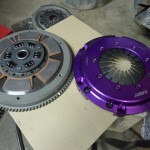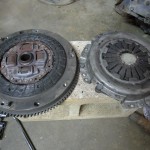 Typical of something manufactured in Japan, it comes in carefully designed packaging. An outer brown cardboard box with a cutout window right were the model # label is. Inside package shiny cardboard with emblazoned words. Nested securely inside within layers of cardboard is the sexy clutch assembly. OK, 3-D violet anodizing has been out of style since the 90's, but this is still nice. For a "soda A", "soda B" comparison, here's the OEM spec stuff on the right.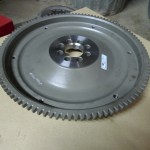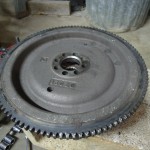 And here's the backside of the flywheel compared to the OEM cast iron. Nice stuff, to bad it won't ever be seen. Yes, this is overkill. Clutch is rated up to 247 ft*lbs, this engine specs 110 ft*lb on a good day. Certified to past 10,000 rpm. Oh, and for good measure I got a set of ARP flywheel bolts (Part #203-2802). Can't wait to bolt this stuff up and get it going!