Now open for a few years in Honolulu, the claim to fame for this small Japaneses restaurant is that they serve fresh housemade soba noodles. Location is on S. King Street on the left just past Punahou St. For the oldtimers, it's where Dairyu used to be, go past where Cinerama used to be, in the small group of stores that includes the Obama Baskin Robbins. It's a small space with about six tables and a counter, cozy, you won't have any problems flagging down service.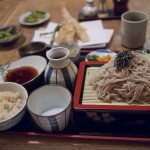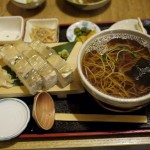 Visited twice, first time had the tenzaru soba, a standard that should be good to judge by. Noodles correctly "al dente", tempura crisp and light, side dishes nice, tokyo negi for your noodles, the wasabi looks to be high percentage of real wasabi. Not the usual mystery mostly mustard/horseradish green paste. I don't think it's fresh grated, but it might be the 100% real from tube wasabi. Second visit I had the Battera Gozen with the upgrade to standard size noodle portion of the hot soba. The battera is wonderful, just the right amount of vinegaring.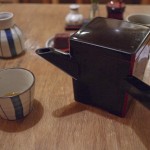 I actually prefer the hot to the cold, the texture of the noodles is better.  The cold zaru has nice firm center, but the outside feels a little soggy/slimy. You do get the pot of soba-yu at the end of your meal if you get the zaru soba though.
Don't expect eat till you sleep size portions here, although I had a hard time finishing the upgraded normal noodle portion size. It's in line of traditional Japanese portioning, not western and Hawaii size, which is fine by me. Food quality is all top notch. Expect to pay a bit also. If you stick with a basic meal, then you'll get away for a good price, but add on appetizers and you can quickly run up a tab. The unagi-su (vinegar) app we tried was something I wouldn't expect, and was actually tasty, but kinda pricey. And remember its BYOB. Gets my monkey thumbs up!