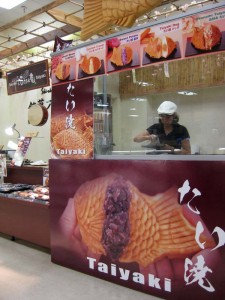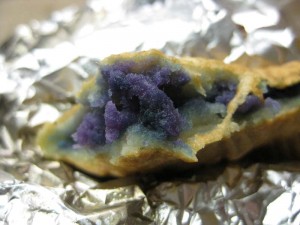 Stopped by Akimune-an in Shirokiya last Tuesday.  The "buy two, get one free" campaign is over, but I got two an and two satsuma-imo filled taiyaki anyway.  There was also cream filled, but that intuitively offends me, so I didn't get any of those.  The girl working was different than last time.  It sort-of seemed like she really didn't like her job, unlike the girl last time.  The final product was just as good, but the foil wrapping was done randomly and haphazardly.  This was primarily an experiment to see how the purple sweet potato filling was.  Verdict – not as good as the traditional adzuki filling.
$2 USD each
Give the sweet potato filling a try – you might like it more than I did
Two-and-a-half out of four gas-passing monkeys.