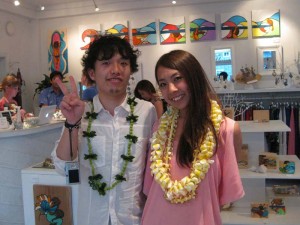 Jackie and Eric from Chinatown Boardroom dropped me a line last Friday that there was going to be an opening reception for Yumi at Mu'u Mu'u Heaven in Kailua. A First Friday art show that wasn't downtown and was on my way home was very attractive, especially if I could check out some nice artwork and meet some old friends and hopefully make some new ones. Traffic was light on the Pali, and there was ample parking. The video crew that did the live feed for Fuyuki's show were there doing an interview, and the same organizer dude that made the arrangements with the Boardroom last time was there on hand too. I wandered around the rest of the shop and gallery space until the shoot wound up.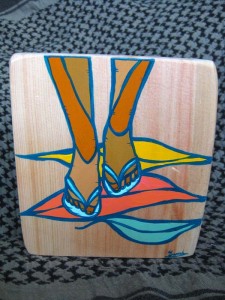 As the video crew was stowing their gear, I went in to check out the artwork. Yuki's art has been featured in Aloha Surf Guide magazine and in several surf and surf culture magazines in Japan. The work she was showing was primarily acrylic on wood panels and blocks, although there were some larger format multiple paneled works of acrylic on canvas up on the wall. The wood she paints on is hinoki or sakura. She also had a few prints and postcards and watercolor on paper works. I had the chance to talk to her and her husband. She is from the Yokohama area, and it appears from her blog that she surfs Kamakura/Enoshima. Her husband is a jewelry designer, and they were visiting during Golden Week for their honeymoon (omedetou!). She didn't go to art school and is self-taught. There was a bit of a language barrier issue (I know I totally confused her when I was trying to talk about "art as therapy"), so I hope I got most of that right! What I found interesting about her work was that although more on the graphic than realistic side, the almost stained-glass-like images were not flat: There was a sense of perspective, view angle, and dimentionality that broke past the outlined panels of color.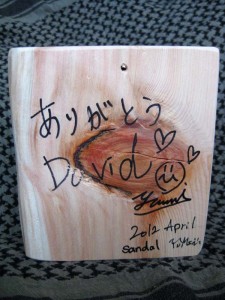 I was thinking of buying a print of one of her defining works, but ended up buying an original painting on wood block. Ouch! I slipped out around the time Yumi's friends who came for the show brought out the birthday cake. Jackie came out when she saw that the car she was checking out in the parking lot was mine. It was good seeing that she, Eric, and little Parker are doing fine.
Check out the show if you're in Kailua. I'm guessing the show runs to the end of the month.