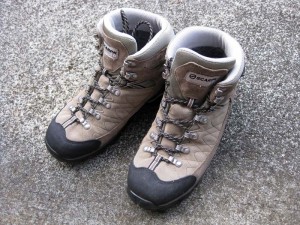 It took a while for me to figure out what I was going to do about replacing my Danner 453 GTX's, since the fit on those was great, and they had a good balance of low mass, good traction, and good support. They served me well in environments from desert to snow, being neither too hot nor too cold. I wanted the replacements to likewise have a mixed suede (or Nubuck) and Cordura upper to provide better ventilation than an all-leather one. The breathability outside of the Gore-Tex membrane is critical in allowing moisture to escape and for the waterproof-breathable system to work efficiently (I've got a pair of steel-toe Danner 453's which are all-leather, and they are significantly hotter than the Cordura/Nubuck version). Reducing this moisture buildup is critical in keeping feet dry and cool in warmer conditions and dry and warm in cold conditions. I wanted a more aggressive outsole tread than the Danners had. Okay, granted the Danners were really worn out, but the sole blocks were very low profile to begin with. I also wanted something that wasn't made in The PRC.
Since I had picked up a pair of Lowa snow boots and liked the construction and quality, I looked at them first. I needed a wide width, but the only commonly found model they offered in wide sizes was all-leather. Danner made a mountain combat boot, but the sole wasn't particularly aggressive, it was also all-leather, and I am not sure if they were available in wide. I did a brief search on the COTS hiking boots that the U. S. armed forces were using in OEF and found the Scarpas. They fit the bill with the construction, had a significantly more aggressive outsole, and were made in some Eastern European republic by an Italian firm. Amazon had the wides in the size I needed, so after a free Super Saver shipping wait, I had new boots.
The fit was spot on with my Danner Desert Acadias and Lowas. I ordered the same European size that fit me in my other boots and everything worked out fine. Even if all three of the mentioned boots are the same Euro size, the listed U. S. sizes are all over the place. I'm not sure what's up with that. If I take the insoles out of the three boots, they all have almost exactly the same outline, and will interchange between the different boots. The Kailashes are built on Scarpa's BX (regular) or BXX (wide) last, so I can be almost certain that if I get a different Scarpa model built on the same last, the fit will be essentially identical. There was adequate volume for my instep in the boot, and the shape of the footbed was correct. There were no hot spots, pinch points, or pressure points. The factory insoles were very thin and had little arch support, somewhat like the thin, flat insoles you find in all Euro bike shoes (Sidi, Nike, Alpinestars, Northwave – been there, done that).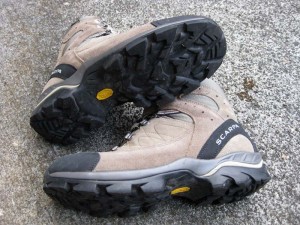 On initial examination, the quality was good, but not as good as my Lowas. If you put the left and right boot side-by-side, the suede panel edges didn't line up well at all. The boots fit identically and from standing height looked identical enough, but there was a fair bit of "manufacturing tolerance" in the assembly. There were no stray glue streaks, and the upper, midsole, EVA cushion, and outsole were all bonded nicely together. The stamped, formed sheet metal lace eyelets and lace hooks were well made and securely riveted. I've had soles peel off and lace eyelets pop off on two different pairs of Salomon boots before, so those areas get my attention now. The Vibram Hi-Trail Lite outsoles had a good open tread design with aggressive blocks. Where the old 453's had what would amount to an "AT" truck tire tread, these were easily in the "MT" range. Having the Vibram label was a little plus, since that meant that the outsole was of a known durometer and formula instead of being mystery rubber. This would have been more of a concern had this been a China-made boot. Both the toe area and the back of the heel cup were overlaid with a black abrasion-resistant material to protect the suede from wear and tear.
I wore them for a week and change in preparation for using them in Japan. They were comfortable, but were definitely stiffer than the 453's were when they were new. The stiff shank and stiff ankle collar made driving an M/T car while wearing them challenging. My arches were a little sore after day 4, but I think that was more my feet getting used to the boots rather than a lack of support. I took them on a Mariners' Ridge night hike with the usual suspects and the boots did well. Traction was excellent on the varied terrain. This trail has everything from loose dirt moonscape to roots, rocks, and ironwood needle mats, and there was no slipping. The added ankle support was nice on the rooty sections to reduce the strain and the potential of ankle turning, but this also made them feel more "boot-like" rather than "sneaker-like". As for day-after consequences, the bottoms of my feet and ankles were in way better shape than they are when I do the same hike with the same load wearing either the worn-out 453's or reasonably new New Balance trail runners.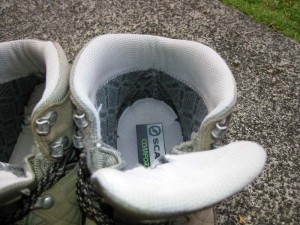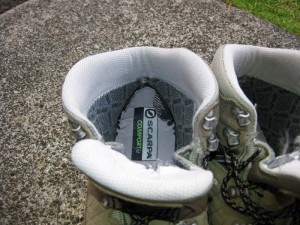 After a quick clean-up, they were on my feet heading to Japan for a week. They easily handled the 15km Tokyo pavement days with occasional forays into shrine precinct gravel and a couple of paved "hiking trails" around Ikaho-onsen. They kept my feet dry in the near-daily downpours and never went sketchy on the wet city surfaces. There was a lot less end-of-day and morning-after sole/heel pain, which I found interesting, since these definitely felt "harder" than my 453's. I guess support and design is more critical than apparent "cushioning", sort of like how a giant padded gel bike saddle leaves your ass in more pain than an anatomically correct hard racing saddle. Toward the end of the week, the thin insoles started to bunch up behind my heels as the material became soft through use. The foam insole material actually began to crumble and form particles that exacerbated the insole migration issue. When I got back from Japan, I ordered a pair of red Sole insoles (the "signature" ones with the mostly naked man on them) and heat-formed them to a perfect fit. The arch contour is now more like my other boots, and the stiff insole material will not pull a repeat of the factory insole bunching.
A little thing I should mention also is the lacing system. There are four pairs of lace eyelets on the forefoot, followed by a pair of nylon webbing loops then two pairs of lace hooks on the shaft of the boot. The webbing loops do a good job of isolating the lacing tension on the forefoot from the ankle area, so you can get the forefoot area adjusted so it isn't too tight, then crank up the tension on the ankle or vice-a-versa. Not quite as isolated as Dual-Zone Boa, but you can get the ankle tight enough without crushing the rest of your foot.
Highly recommended
Made in Romania
$209 MSRP, street price $170-130 USD (The Sole insoles were an additional $40 USD, bringing the grand total to $210-170 USD)
Three-and-a-half out of four trekking monkeys