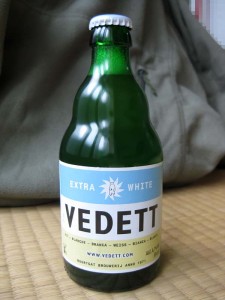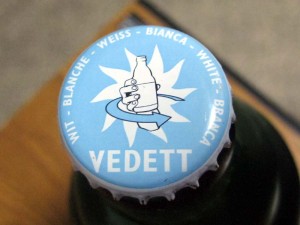 I can just hear Fabio fighting the power!  This mild, clear weissbier is produced by the Moortgat Brouwerij (brewery) that brings us Duvel and the various "Chouffe" beers and ales from the Brasserie d'Achouffe brewery.  The Vedett name was originally used to market a lager in the 1940's, but in the 2000's, the brand was realigned toward a younger, upscale market with the introduction of a pilsener and the weiss I will review here.  The flavor is not as heavily citrussy out of the bottle as some other weissbiers are.  There is a hint of bitter over the moderate wheat flavor.  The carbonation is low: You can feel a hint of bubbles on the tongue, but there is no head.  It is cloudy, as a weiss should be, but has the least amount of accumulated sediments of all the bottled weissbiers I have observed.  This weiss is the lightest in flavor that I've had so far.  That's not specifically a bad thing, as I've had a couple of microbrew or craft weissbiers where they smack you on the head with a hand drilling hammer with the amount of sediment and taste overburden they have.  The Vedett Extra White Weiss has a good balance of flavor and body, but is on the crisper, refreshing side of the scale instead of the fuller, "meatier" (meal in a glass) side.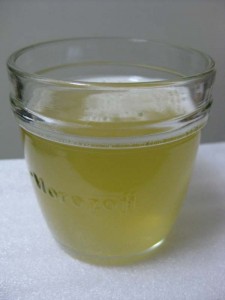 Recommended
Three out of four wheaty monkeys
4.7% ABV
430-yen, but on sale for 390-yen (about $5.00 USD)
If you're wondering about the picture, apparently you can submit your picture and it will be printed on a number of labels and distributed worldwide.  I have no idea how many labels per picture, if the pictures vary by market, nor how they select which pictures to use.  If you're really curious, go to their website – it's printed on the bottle.