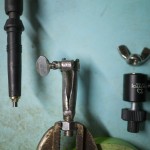 Got a Leki carbon trekking pole with the photo adapter. Figure can use it for multiple purpose of hiking pole and a pole mount for the action cams. Trying out the provided 1/4″ tripod mount adapter with a Giotto mini ball head worked, but it seems a little tenuous. It's really designed for compact still cameras.
So this is what I came up with. A 3/8″ inner diameter by 1 1/2″ long steel spacer made from rolled sheet, a 3/8″ bolt and wingnut, a hose clamp, thumbscrew, and the mentioned Giotto ball head. The ball head actually has a 3/8×16 threaded hole in it's base with an adapter to the more common 1/4×20 tripod hole.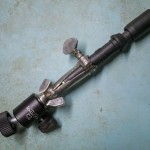 With a bit of hammering, grinding, squishing in vice, and welding and this is what I got. It ain't pretty, the spacer/collar thingy is not stainless, but it looks like it'll work.
Oh yeah, the Leki card says German engineering & design, made in Europe, except for the carbon stuff aparently. Not too surprisingly the poles have made in China stickers. Oh, and that Giotto ball head? Also made in China, although at it's price point I was not surprised at all.