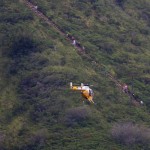 Heard the HFD truck go up the street, had to think, could it be? It's actually been a long time, but sure enough a couple minutes later heard the whine of HFD 1 flying in. The last time they came by was about a month ago at night but they flew past us. They were actually at Kamiloiki Park. my guess was either Mariners of Yoga Twins trail.
Anyway, today it was back to Koko Crater just before lunch.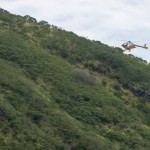 But they were not following the usual drill. I scanned the tramway and did not see any of fluorescent green shirts. Continued watching and HFD1 instead buzzed over to the makai ridge and disappeared behind the lip for a while. I was wondering if maybe they dropped off a firefighter there.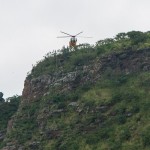 It then lifted off and cruised over to the mauka area. It hovered in the area for an extended time then came in close to the ridge. That looks to be the last little sketchy spot before you make it up to the concrete pads. They actually made two  passes at the spot and then buzzed away to the park.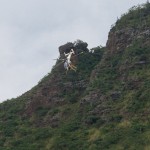 They never deployed the basket or plank.