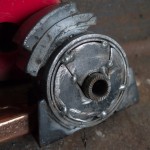 OK, so you  saw my engine mount woes. I've had various good suggestions, fabricating a mount that uses some known leaf shackle size was a good one. But with the next event a week away and me being lazy, I decided to hack something up with what I could find to solve this problem. I could have bought some more window weld and filled the mount with goop, but I knew that wouldn't last one event. So heck, I'll fill it with steel! Now if I had the tools, this could have been done in an hour or so. Instead I scavenged other engine mount brackets and had at it with angle grinder and cut-off disc.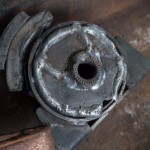 Then crank up the MIG to all it's got and had at it. Four hours later and this is what I got. Break for dinner and let it cool off. Painted it up, then slapped it all back together. Crank it up. Oh yeah, that Noise Vibration Harshness is pretty good! But heck, because racecar! The exhaust and knobby tires are so loud anyway it doesn't matter when you're underway.
And underway it is! Even with the LSD that should be helping to pull both tires, there's some pretty mean torque steer now. And with the rain slicked road, I got a pretty mean 2nd gear burnout even though I didn't dump the clutch! Should be interesting to see how it does at the next race.