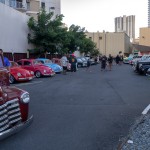 Cruised by the new Teddy's Bigger Burgers on Kapiolani for the little car show that Scat was in.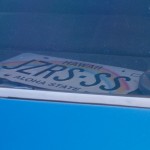 Half the parking lot occupied by a small collection of classic American steel and a gaggle of VW Bugs. A couple of Imapalas done contemporary bagged style, a bunch of fairly typical Chevy and Fords.
Looks like Dave's buddy got into a classic Camaro?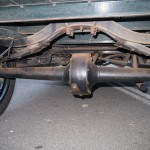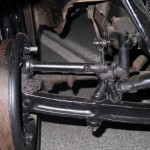 And then there was some authentic old school hardware. This Model A I'm told is running on original drivetrain! A trip looking at the funky linkages up front and then realizing it's the brakes.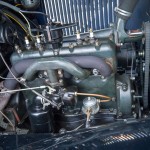 And here's an engine from a different vehicle. Quite a trip!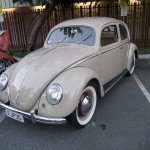 And then this VW rolled in stylishly late:
All in all not bad. Good to see the owner of this Teddy's was digging it.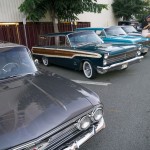 Oh, and of course can't forget the Scatmobile.