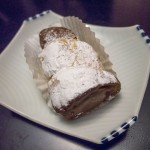 Back in August I blogged about doing a job on Maui, what I neglected to write about was the wonder that is Stillwell's cream horns. This past Thursday I found myself back in Kahului for work. I had enough time before my flight to take a quick drive toward Wailuku to Stillwell's and pick up a dozen of their signature mini cream horns.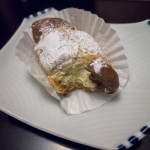 These pastries are different from the cream horns I'd been used to from the Japanese style bakeries I've had before. Instead of a bready pan, it is a flaky pastry shell coiled into a horn shape. Then filled with a great custard filling, the ends sealed with chocolate, and finished with a generous dusting of powdered sugar.The pastry shell holds up well to refrigeration and does not get soggy, in fact when you buy them for travel, you can get the ones they have in the freezer. The mini is just the right size, enough to satisfy but not engorge. The only way they could make it better is to use dark chocolate.
Next time you're in Maui, take the time to go grab a box of these. It's only a couple miles from the airport. Head up Kaahumanu Ave. toward Wailuku, go past Balwin High School and it'll be on the right before you get to the overpass that crosses over the road. It's well worth it, never mind those silly doughnuts.
4 out 4 choking on sugar dust monkeys.