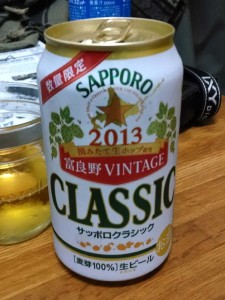 I didn't get to drink this last November, so it's been waiting faithfully in the refrigerator for me until now.  This limited seasonal from Sapporo Breweries is distinguished by its use of freshly picked hops (Tsumitate nama hop shiyou) grown in Furano, Hokkaido for a wonderful burst of Pilsen-bitter.  The decoction is essentially the same as other Sapporo lager products, so the taste-bud-pleasing maltiness is similar to their other products.  The carbonation in the glass after the pour is fleeting with no significant head, but there is still bubbling on the tongue when imbibed.  This is a very good production beer.  I like it better than the Suntory Malts Premium Pilsener, which is unfortunate, since I'll never be able to get it again!  Launching at the end of April, there is a similar Sapporo Kuro Label The Hokkaido that is using both the Furano hops and Hokkaido-grown barley.  That one is both a limited edition and Hokkaido limited sales product.  With any luck, I'll get to try that one too.  Here's hoping!
Four out of four bitter monkeys
Highly recommended
5.0% ABV
I can't remember what I paid for it, but doesn't matter, since it's no longer available!