So this is what the mailman brought today.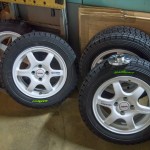 Yes, it came USPS Priority Mail. Not exactly cheap, but it was fast, it shipped from the UK on Wednesday. UK? Yes I had to call out to over the other side of the globe to find this rally stuff. It just isn't very big here in the USA so selection is limited. I was taking abit of a leap of faith on these parts, I didn't really know where they were made. I was pretty sure the rims were made somewhere in the EU. Turns out they are made in Italy. Not sure how to feel about that, but the brand has been around for a long time. They came with a set of aluminum hub centric spacers of the correct size for the FX that get retained by a spring clip into the wheel, nice! Also full set of extended shank lug nuts, but cap ends so I can't use them with my extra long ARP studs. Oh well.The MaxSport rally tires were a complete mystery to me, but hey, I ran those Lassa Turkish tires literally into the dirt. It turns out these are retreads, made in Germany. Weird! Now I know why they are cheap, guess we'll see how they hold up!
And the bonus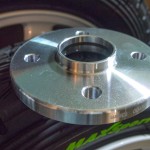 was these hub centric spacers that were the perfect weird size I needed. 13mm thickness, 54.1mm bore, 4×100 bolt pattern, a combination I hadn't seen anywhere before. At first they didn't know they had these until I gave them the part number listed on their website. They actually threw these in as a freebie. I need these to run the nice street rims on the back of the FX. Previously I'd been running stacked generic spacers, quite ghetto. Perfect fit, very sano.
Demon Tweeks was the name of the company that I orderd from. Good people. There was a bit of a hastle with communication with the big time difference, but they came through in the end. The fitment they came up with looks perfect, they mounted and balanced the tires also at no additional charge, and threw in those spacers, cool deals!
Ready to rally, less than two weeks away! Oh wait, I need to get a valve core tool. I have one, but no idea where it went. Oh look, I just found it on my desk here in the big Ziploc bag of stuff, sweet! I can actually install those cores and air up the tires, whew!