I think Kuliouou is Hawaiian for eternally sucks on a mountain bike. This Sunday when ride plans fell apart, I found myself awake and ready to ride before 8:00 in the morning.  I decided to go do Kuliouou although its universally hated among us. I figured the rain showers overnight had pretty much missed this area so it had a good chance of not being a muddy mess.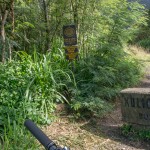 By the time I decided and rode out from the house, I got to the trailhead a bit past 9:00. The street was already lined with cars and a number of hikers heading up. Yes, it was hot already, and getting hotter.
Getting off the pavement, the trail was wet and moderately muddy. The trail itself was much like how I remember it last, lots of rocky and rooty sections. The condition of the trail, except for more graffiti on the signs and a couple trees falling over, didn't look worse. I found myself doing lots of pushing. In fact the hikers were faster than me. Thus the dislike from us for this trail. This was turning out to be a hike with 50 pounds of gear rather than a ride. As I got farther and higher on the trail it became drier. By the time it got into the ironwood trees, there was barely any signs of dampness.
Eventually made it to the fern grotto and took an extended break then continued up to the rest area with the wood shelter. There was a nice breeze here and I took a seat at the benches. To my and his surprise, another lone mountain biker showed up. There actually was another fool attempting to ride this trail. Found out he was from out of state, which would explain his foolishness. I had no such excuse.  Talked for a bit and gave him suggestions on trails to ride, which included not this one! He headed further up to check out the promised scenic vistas, I had no such inclination and headed down the same trail.
The Yeti was proving to be not very well suited for this trail. The large amount of walking uphill made its 30 pounds a liability and its low crank kept bashing against numerous rocks and boulders. The long wheelbase made negotiating the switchbacks very difficult, had to dab most of them, and never got enough speed on the trail for the bike to really shine. Perhaps if I took the alternate secret downhill trail, but not knowing what its condition was like and being alone I decided against it.
Reached the end of the trail feeling fairly unsatisfied with the downhill, yet another minus to this trail. Hit the road back home and took the side roads instead of Kal Hwy.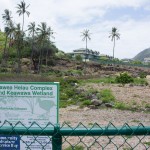 It was nice fresh pavement and I also wanted to find the mystery heiau. I didn't know about this until I did some online searching for info on petroglyphs in the area.  I was actually looking for the ones on the shore line, but discovered there were some right in my neighborhood! These were at a site adjacent to the Oahu Club and fairly recently was under threat of getting bulldozed by developers building condo complexes. There was public outcry on this, but there was a leadership change in the project and things turned around. This section of the land was sold to a community non-profit for preservation of the cultural site. Interesting, I may need to go to one of the volunteer days to check it out!