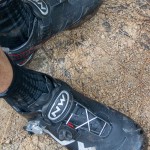 I guess the usage of "extreme" has not died yet as NW insists on using it for their top of the line cycling shoes. I got a pair of these MTB older models on closeout for a great price. Non-clown/superhero color of black. They feature a carbon sole and a top ratchet strap and lower "winch" lace system. It's not BOA, which I find interesting since they use actual BOA brand closures on a coupe of their other shoes. I'm hoping this will give me a more secure fit that the Velcro strap closures on my current Scotts can't.
I've only had a couple rides in them, the first being the heinous Kuliouou ride, but here is my thoughts on them. They are indeed light and stiff. I've heard this year they are narrower than previous, which is good for me since I have a small volume foot which presents a challenge finding secure fitting shoes. I don't know if the "Extreme" Air footbed and insole work, I can tell you the insole is totally ineffective and was immediately changed out to a Sole. The thicker insole and if run with thicker socks does make the size 41's a touch too tight for me, I usually take a 41-41.5 in Euro sizing. The ratchet and winch have a stepped release lever so on the go adjustment are a snap, which is good for me and my foot difficulties. I can run them a bit loose at the start and tighten them up as my feet warm up. The top strap has an adjustable fixed end so you can adjust the position of the strap, which is a nice feature as it allows centering of the pad and getting the strap tighter. I've run into problems with the Scotts where I've run out of teeth on the strap, no such problem here. The fastening system makes these shoes for me, they fit well and I can get them tight enough to minimize heel lift. My thin ankles and low volume feet make heel lift the bane of shoe fit for me.
It being a performance XC race oriented shoe, the outsole is pretty minimal, but it does have rubber lugs on its perimeter and screwed in plastic toe spikes. They worked on most of my push up Kuliouou, but I did have a number of skittery instances on muddy wet rock and roots. Despite the "Extreme Air" footbed that features air channels in the footbed below the insoles, the shoes are kinda hot. There was nowhere as good ventilation through the uppers as compared to my Scotts. If I have some speed going on the road I can feel the wind through the shoes in the Scotts, not so with these.
With the very stiff sole and secure fit, pedaling efficiency feels very good. My only complaint here is the fit of the cleat plate in the slots of the sole are tighter than the Scotts and limits the amount of rotation adjustability. I had to force them as far as I could to get the cleats rotated to where I wanted, and I wanted a hair more.
They tout the upper construction of microfiber "biomap" and thermoweld reinforcing to keep them light, we shall see how that holds up for longevity.
So far, I like them, a solid 3 out 4 winchy monkeys.