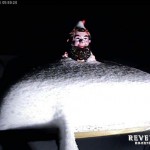 The Revelstoke Snow Gnome webcam shows an honest 11 cm overnight! Looks like today is the day of this trip. Forecast for the rest of the week is nothing today then some snow but rising freezing levels. It's is also a non-holiday weekday, it ends up that our Presidents Day was Canadas Family Day, a National holiday. Hopefully that explains the massive queue lines we experienced Sunday and yesterday.  That would be one of the few negative experienced here so far, but we think it is not representative of a more typical day here.This is a very new, growing resort, so we expect things to get better. The other negative is they have a minimal lift system. They are all modern high speeds though. For us, the terrain has been good, but beginners beware, there is limited areas currently, and under surrent conditions much of it slushy since its at lower elevation. But intermediates who can handle lots of cat tracks are ok. The glades need more clearing, much of the trees are quite dense and tight pines, again its a young resort and it looks like they are continually clearing areas.
Its a strong El Nino year so we've experienced moderate snowfall so far, but warm. Hard to judge the snow quality. The powder is said to be good here, being inland as opposed to Whistler makes for drier powder.
Anyway, looking forward to today!