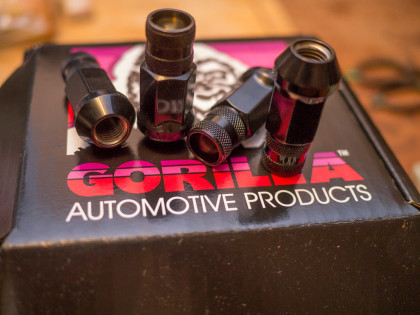 Was busy with the major work on the car, but finally got around to some of the other little things I got for it. There's these new lug nuts. Main thing I was looking for was nice lugs in 3/4″-19mm socket size that matches my lock lug key. Found these from Gorilla. They look like those pimp tuner lugs, but they're not quite. Most of those pretty colored ones are aluminum. I was not confident in the use of that for rallycross. We've seen bent and torn steel rims, pulled out studs. These are advertised as forged steel. So these with the extended length ARP studs should be plenty strong. The extended length nuts with the knurled end make installing them quite convenient too.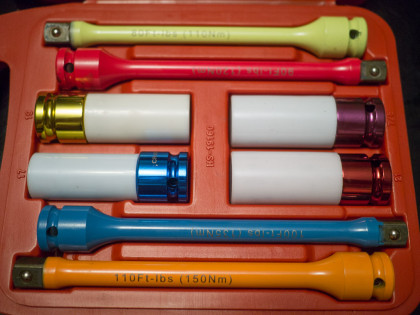 So next I went looking for thin wall impact sockets to fit the lugs. In that search I came across these sets, and learned of a tool I did not know existed. Impact torque limiting bars. What looks like 1/2 drive extensions are more than what they appear. If you look carefully you will notice a ft-lb/Nm rating printed on them. What it does is allow you to use an impact driver to tighten a fastner, but when the rated torque is reached, the bar turns into a spring and in effect nullifies the impact. It only works with impact tools, and seems to be dependent on the strength of the tool. I tested with my Makita electric cordless impact and even with the 110 ft-lb bar, going over it with a torque wrench set for 85 it was just under.
I plan to use the 100 ft-lb and these with the new lug nuts should make the wheel changes faster and easier.