So the status of the FX is it ran well enough for me to take 4th place over entire field at the last rallycross. It did occasionally bog down and cut completely out at idle a couple times. Charge & brake light came on once, classic sign of bad alternator. Starting was getting harder on each successive run too. It also was smelling like a two stroke on the drive home.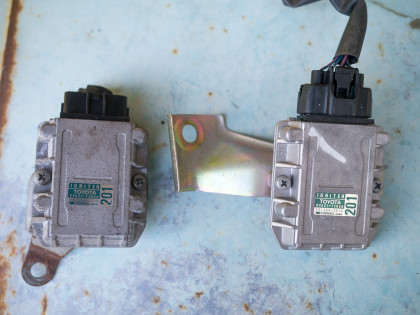 Had some time since to check things out. First off the ECU was giving an igniter error. Oil was down about a quarter quart. Did a compression test which showed all cylinder pretty close, which is good, but pressure was around 160psi if I sat on the starter more than recommended. That's low for this engine, people have reported up to 200. Looks like a rebuild is in order.
In the meantime decided to take a trip to the junkyard to look for an igniter. Thanks to the wonder of the Net, I was able to come up with a list of USDM Toyotas that use the same part. Early 90's 4Runner, Pickup, T100, Celica, MR2, and Previa. An interesting observation as I was roaming the pick-a-part junkyard in Pearl City that I usually go to, there are no Toyota pickup trucks, none. Some Ford and Mazdas. There were a few 4 Runners but no joy in those. I did finally find a few Previa. The first I tried had a different part # igniter, though it looked the same. I read you need the correct #. I had to dig around quite a bit to find another, and the PIA with Previa is you need to remove the driver seat to get to the part. The seat does have a release lever that allows the entire seat to pivot back so you can get to the ECU and some service spots, but the igniter is tucked under. You need to completely unbolt the seat for that. Finally found a match. I have no idea where the coil is on the Previa though, I was hoping to grab that while I was there. The upshot of the way the Previa is arranged is that the igniter ends up being in the interior of the vehicle, this part I pulled is amazingly clean, it looks practically new.