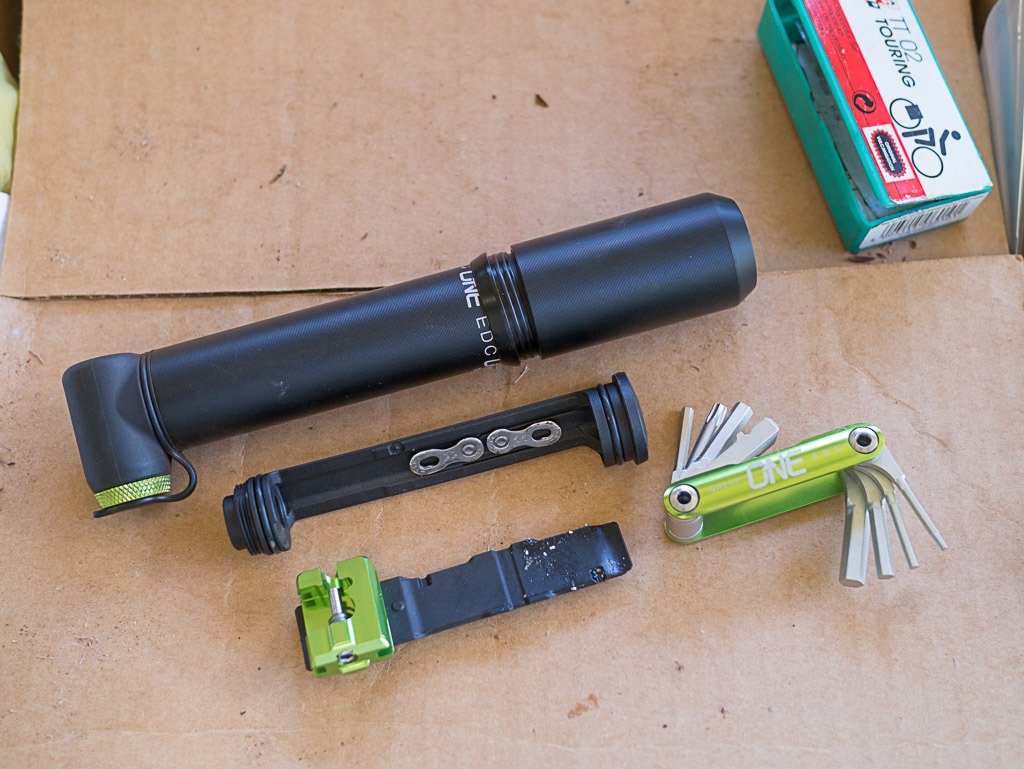 OneUp Components is a Canadian company based in Squamish that produces various mt. bike accessories. Previously probably more well known for their drivetrain parts to extend your gear range. Their newest bit is this clever multi-tool that stashes either in your fork steerer tube or in their new mini-pumps. They managed to fit 2 through 6 and 8mm Allen wrenches, T25 Torx, tire lever, emergency chain breaker, quick link breaker, flat screwdriver, 4 sizes of spoke wrench, a spare chainring bolt, slot to store quick link, and cassette lock ring notch tool. Spec also lists presta valve core.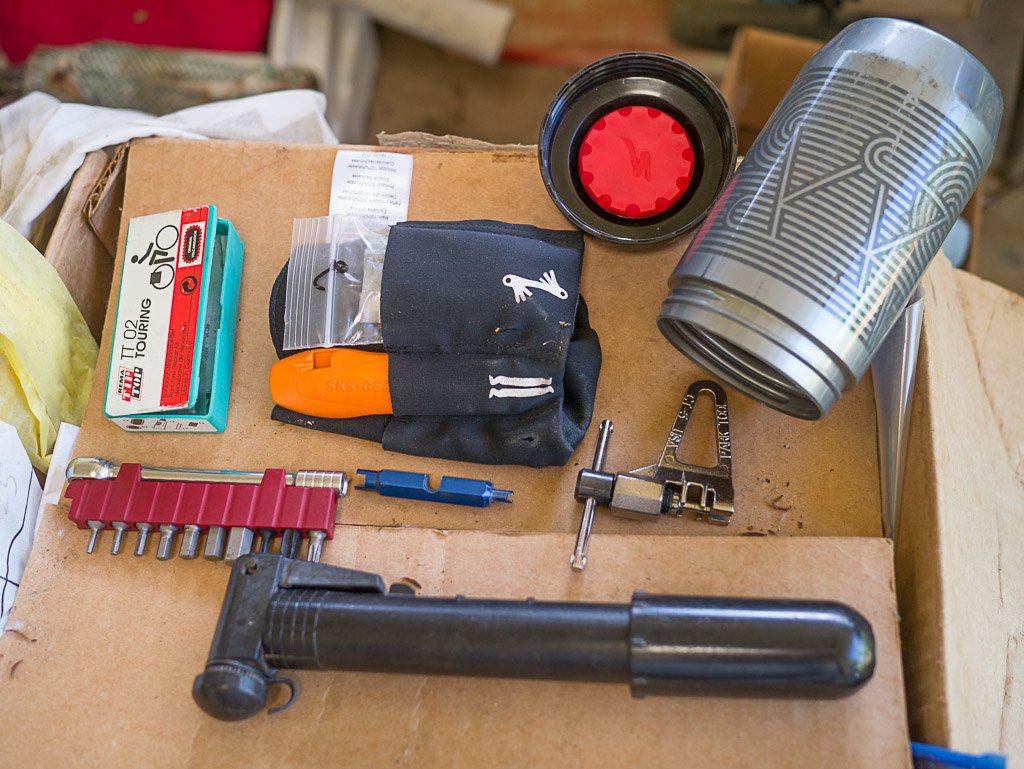 I got the 70cc pump setup as my intention was to replace as much of this that I carry as possible. The pump is Presta only head, which removes to become a CO2 inflator. The tool consists of an aluminum sided multi tool with the wrenches and aluminum bodied chain tool that is held onto plastic tire lever which nestles together to snap into the plastic frame. This then slides into the handle of the mini-pump.
The multi tool is well constructed, plated bead blast finished steel tools sandwiched between anodized aluminum plates held together with what looks to be stainless screwed pins. They fit firmly together, no play, which makes using the tools nice. The tolerances of the bits are also quite tight, if the fastener being worked on is rusty, it might have some trouble fitting! I initially thought they had combined the 2 and 2.5mm on a single wrench, I was mistaken. The Devo hat step on that tip was made to fit the 2mm with the larger base needed to fill the gap. There is a separate 2.5mm, I wasn't paying attention. The flatblade is combined with the lockring cap tool which also functions as the quicklink breaker, and then combines with the adjacent 5mm to become the 8mm allen.
The second piece of the tool functions as a tire lever on one end. The other end has the anodized aluminum chain breaker bolted with a chainring bolt, so in a pinch you have a spare bolt too. If you go to EDC's site, I notice they call it a chain breaker, not chain tool. So I think it is mainly to remove a damaged chain link. It's design requires you to have the links bent at 90 degree to fit into the tool, using it as a normal chain tool would be difficult. You can loosen the bolt and rotate the body of the tool 90 degrees and the tire lever becomes a handle for additional leverage. Machined into the sides of the chain tool are 4 spoke wrench notches. It being aluminum, you probably wouldn't want to build up a wheel with it, but it'll work for trail repairs. Again, the tolerances seem to be very tight. But being so tight, I tried using the largest spoke wrench as a Presta core tool, it didn't fit. I was about to chock this up as one disappointment. Nope, turns out the gap for the chain breaker pin is the Presta core tool!
The final piece of the tool is the plastic frame that the other two pieces nestle and snap into. It does also have two holes that you can use to store a chain quick link in, and one end has threads to accept either a CO2 cartridge, or their little stash tube. This assembly then can slide into the handle of their pump, or the steerer tube of your fork. If you go for the fork storage, you need to get their proprietary fork cap system and use their tap tool to tap threads into the inside of your steerer. So you end up going back to a threaded steerer, kinda. It's actually quite clever, you replace the star nut and conventional cap with this threaded ring that uses cassette ring tool to tighten the headset preload. You still use your normal stem to do the clamping. This leaves a hole that you can slide the EDC tool into.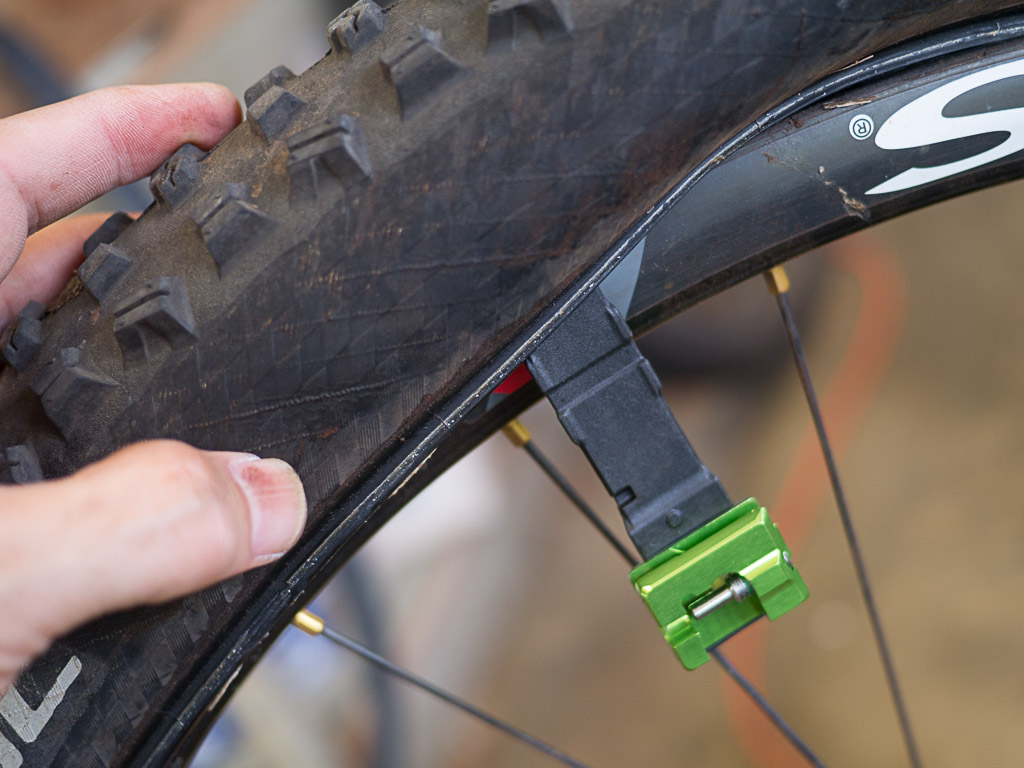 As n excise, I decided to use the tool to do some servicing on my bike. The tire lever was quite usable. If you have a tight bead combo, it'll be difficult to manage with just one lever, but it worked fine for me. As mentioned, the allen keys are quite tight tolerance. The tool worked fine for all the bolts I worked on. I confirmed the unusual 8mm fits, however I did not try to remove my pedals with it. I am doubtful it would be good for that. It should work for emergency if your pedal ever fell off on the trail, right? (Yes, it's happened to someone, who will remain unnamed, and it wasn't me!)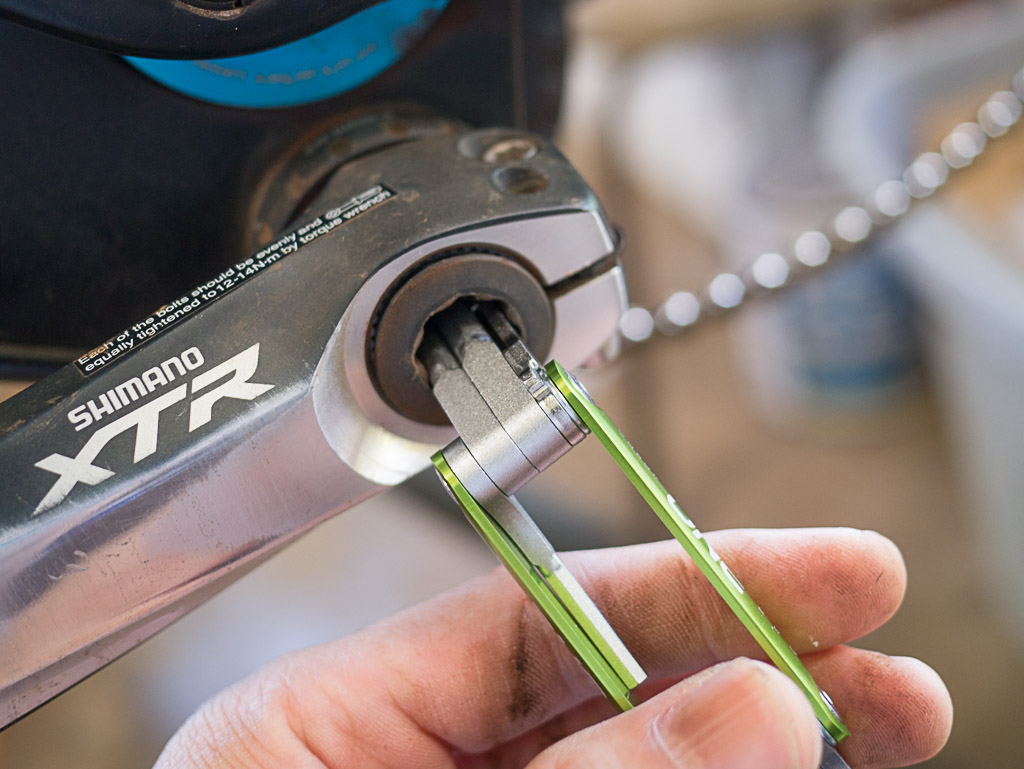 I was even able to improvise removing the crank cap with the tool. Not a very good fit, but the cap shouldn't be that tight anyway.
I have yet to try the conventional and quick link chain breakers. Also there is the tool to fit cassette lock ring notches. Again I don't think you could get the force, but might work in an emergency. It is meant more for the OneUp headset preload ring.
The pump is likewise well constructed of aluminum. Only fits Presta valves. I tried pumping tire at trail pressure to get it higher, it was pretty difficult, but there should be no problem getting a soft tire to trail pressure. The valve head can be removed to be used as a CO2 inflator, but I rarely use CO2. The pump is nicely sealed with o-rings and plugs, it should hold up to dirt and splashes well.
This was a long review, they managed to fit an impressive amount of tools into the space. Yes its about $50 for the tool and another $50 for the pump, not cheap. Yes, it's made in Taiwan, but it's well designed and well executed. 4 out 4 multi monkeys.
Addendum, I just used the quick link breaker. It works, I guess. You need some heavy monkey grip to do it as shown in OneUps video, with soft middle aged thumbs and fingers, it wasn't happening. Ended up using my swiss multi-tool pliers to squeeze the tool together to release the quick link. And if you use wet lube your hands will be a greasy mess.