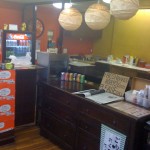 Right next to one of our work clients is a takoyaki shop. It's located on corner of Kuhio and Nohonani St, Waikiki Marketplace. Finally got a chance to try it. Small shop set up with a bunch of tables and folding chairs to hang out in while munching on your tasty snack. You'll commonly see takoyaki translated as octopus balls, although I think octopus dumplings is a more appetizing western description. Spheres of glutunous batter with chunk(s) of tako cooked on a special shaped grill. No, it's NOT deep fried! It'll have a lightly browned outside, inside soft and mouth burning lava hot. Best eaten while said lava hot, they definitely lose much appeal if allowed to cool and deflate. All takoyaki places I've been feature the grill in open view so you can watch the cook deftly spin the takoyaki into spheres, and Takoyaki Samurai is no exception. I believe it's part of the experience, it wouldn't quite be takoyaki if you don't get to watch them being made.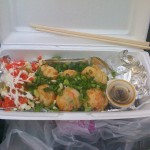 I decided to try something slightly different than just standard takoyaki and got the Negipon. Negi = green onion, pon = ponzu (soy & citrus). Eight spheres of takoyaki served in a generous bed of chopped green onion, a little pile of tempura chips (I shouldn't, but I find it a little odd you can get a big Cosco sized bag of tempura chips), beni shoga, and mayo on the side. Little cup of ponzu sauce to pour over.  Being so used to the thick katsu/okonomiyaki style sauce, I wasn't sure how the ponzu would be. Quite good with the pile of negi treatment!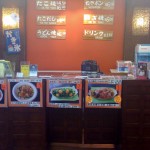 Takoyaki is generally more a snack kind of thing, but they do offer up combos for those wanting something a little more filling. Perhaps not quite as good as the visiting takoyaki that comes through Shirokiya, or standing out in the snow in Hokkaido, but Samurai Takoyaki is still pretty good. If you go during busier times, I'm sure you'll see some asian cuties. Parking may be a challenge, although its easy walking distance of Ala Wai Blvd, and there's a few metered parking stalls on Nohonani St. that I've been able to find open whenever I've gone there. Worth checking out, and I'd advise you do so soon, I see their lease is up in a year, it can't be cheap in Waikiki, who knows if they'll stay beyond that. 3 out of 5 burnt tongue monkeys.
Oh, and the name begs the question, is there a Takoyaki Ninja?