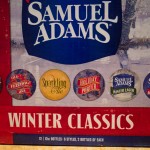 Winter variety pack from Sam Adams, and wow, not an IPA in sight! How refreshing in a time where I saw a Guiness IPA.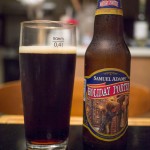 First bottle I grabbed is the Holiday Porter. Pours opaque black with moderate strong head. Dark roast aroma, spicy hops. Fairly strong bitter throughout. Pretty heavy mouthfeel mitigated by crisp carbonation and astringent finish. Nice dark, perhaps not my favorite, but decent.
Just gets 3 out 4 non-IPA monkeys.