Monthly Archive for October, 2013
My most recent Mann oil filter was labelled "Made in Bosnia-Herzegovina"  I guess some mystery Eastern European republic is better than the PRC?  My Bosch wiper refills were from Belgium.
(0)
So with our recent mountain bike revival where we've actually been riding those contraptions again, I've been transporting my bike by taking off both wheels and cramming it into the back of the FR-S. To it's credit it fits without too much finagling. It's still annoying, scuffs the interior, and woe be the day when I get poopy tire. So I started working on the external bike rack, there's already been people who've done it. The one that I was going to try for is to use the large threaded holes in the bumper that normally is for the two loop. The FR-S fortunately has two, which you then make something to thread two rods into. Then any typical roof rack mount should work. People have gone as far as having machine shops machine something out of stainless rod. The other method was to go get a pair of the OEM tow loops, cut off the loop, then weld on a tube/pipe. I investigated that. Toyota parts wants over $35 per, and they were not in stock. So I ran around to various shops in Mapunapuna. Industrial Hardware had the big arse metric bolts that match, 16mmx1.5. I bought a pair of the longest ones they had for $11 the pair. Then went across the street to Moos Machine Works to look for tube. They had nothing that would fit the bolts. Back across to Hardware Hawaii where some 3/4″ conduit happen to fit. I wasn't going to trust this to be strong enough, but bought some for mock up work.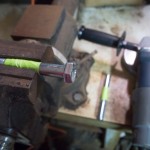 So first thing to do was to chop off the heads. Few minutes with the grinder and cutoff wheel took care of that.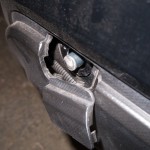 Threading it into the bumper immediately reveals that it's too short. The actual threads are recessed far behind the bumper/ There is a metal face right behind the plastic, but the actual frame as way back there. So if I tried to attach a tube to the bolt it would have to be small enough to fit inside this outer hole, which would be not much more than the 3/4″. Hmm. I proceeded to fit up the 3/4 conduit the test fit everything.
Just bumped into Roy and #2 (not poop) at Lion. Good to see he's doing fine.
(0)