Monthly Archive for May, 2013
No!!! Shouldn't this be something that stays dead and buried? Matsuda Seiko is back on the charts? WTF?!
(0)
The weather was surprisingly nice on Memorial Day, so Chris, Root, and I hit the ditch for some punishment. Having not ridden in over a year, I was surprised that I didn't immediately drop dead. The climb up Government Road was not terrible, even in the brutally still humidity, but then I ran my front tire through some stinky dog poop. The conditions along the top traverse of the side loop were good, but things were a little squishy along the bottom stretch. Continue reading 'Re-Ditch'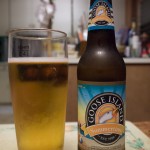 A "traditional German-style Kolsch" beer. This Goose Island stuff is a new offering at Foodland. Pours a bright clear yellow, weak head. There's a bit of yeasty aroma, strong but not overpowering hops gives it some bitter bite, but it quickly subsides leaving some hints of malt. It's a pretty clean dry beer, excellent with food, while still having some character.
A solid 3 out 4 Kolsch like monkeys.
First off, the valves worked great! No gas spillage and fume issues this race. Did hear a soft honkey sound once, kinda like if your meep meep horn was buried. I'm thinking that was the valve "blowing off". The car ran pretty well the whole event.
The exhaust has developed a leak again, the flex joint has failed yet again. The guy at exhaust system said he'll look for a heavier duty one that has the stainless mesh on both inside and outside. What a PIA, I later thought maybe I should have them put in flanges so the flex joint could be bolted in & out. I'm confident enough in my welding that I could a weld a section, but not while its still in the vehicle.
Trippy, the Beretania Safeway has a shopping cart escalator!
My guess as to why they're writing Kono out of the first half of HI 5-0 season four is because she's expecting, and the hiatus will give her enough time to go to term and give birth.  Just a guess, but I called Stephanie's pregnancy long before she announced it on air.
(1)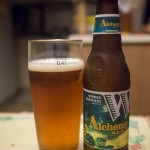 Pours a clear medium light amber with medium head. Strong floral hop throughout with accompanying bitter. The bitter does taper leaving a hint of nut. Mouth feel is medium. It's a good beer to have with hearty food, but by itself I can't say I enjoy it a lot. 2.5 out of 4 monkeys.
Oops dude, your rant got munged, but I got the idea. Is that like when making a left turn, pedestrians aren't in your half of the road yet if you turn into the wrong side of the road? Saw someone do this in front of a mother carrying an infant no less, WTF is wrong with people?!
And there seems to be a new medical crisis among the population, colorblindness seems to be rampant. People can't distinguish between red and green!
Finally, why do auto manufacturers go through the bother of installing turn signals. No one uses them, it would cut costs to eliminate them.
(0)