Monthly Archive for January, 2011
The Shell gas station in Kaneohe has "ethanol free" 89-octane for $0.20 more per gallon than 87-octane E10 Regular.
(0)
You can't win against the weather. In an attempt to beat the arrival of a consolidated band of heavy rain arriving from the West, we hit the ditch at 13:00, but instead of arriving at the forecast 16:00, the rain arrived a few minutes after we started up Government Road. Hit it perfectly while trying to avoid it. Didn't even have to destroy any stars – Dr. Soran would be proud (tell me where this comes from, geek!). After circuiting the side loop, Jeff suggested we ride up to the end of the road. We were already muddy and wet, so there really was no harm in riding more. Jeff was pretty much off the front from the start, but Sara, Danny, Paul, Root, and I were variably clumped up in a loose pack. On the way back down, Root and I went down the side loop a second time. The roots on the upper traverse were critically slippery. On the road back, I laid it down on the greasy-slick hard clay. I didn't get hurt, but ended up with all the Java plum stains on my jersey and gear, as the runoff groove where I went down was where the rain was collecting the fallen fruit. After an early dinner at the Kailua Town Pub, it was home for a couple of hours of hosing off and washing the bike and gear. Continue reading 'Defying the Strand'
Mmmm, amaebi.
So today was meat day at Ninjaya (Nijiya), no really. 2 = ni, 9 = ku (kyu); 29 = niku = meat! Their cuts of meat are 20% off and it happened on a good day as I was out food shopping. I'd already went by Marukai and picked up a tray of sashimi for tonight, the plan was chirashi style sushi. My other plan was shabu shabu tomorrow if the meat was good, and indeed I picked up a couple trays of good looking ribeye shabu shabu cuts. I also checked out the fish section, Ninjaya might not be cheap, but they do on occasion have some interesting offerings, and I saw today they had trays of Hawaii botan ebi, yay! I'd seen it before, but it didn't go with my food plans at that time, but this time its perfect! This is something I haven't ever seen at any other supermarket, you'd probably have to go to the seafood specialty shops like Tamashiros. So I grabbed a nice small tray, checked out, and headed home.
Good stuff. Kinda gelatanous and sweet meat, yum! I hear most sushi places will deep fry the head and present it with the ebi. I didn't want to try that, I instead tossed the heads into a quick dashi broth for a soup of shrimpy goodness with a couple bits of chutoro for good measure. Mmm, kinda a zeitaku meal meal when I thought about it, not so long ago something like this would have been for royalty! I hope I don't get ill though, I dropped one ebi into the sink peeling it, I rinsed it off, but…. I couldn't bring mayself to discard it, these guys (& at least one gal) weren't cheap!
Anyway, sorry I neglected pics, but it was yummy!
Being a professional at something implies excellence and knowing how to do the job correctly. A taxi driver's job is to drive, so they are supposed to know how to drive. Unfortunately this train of though is too idealistic I guess. Driving toward Kapahulu Ave this afternoon, taxi minivan speeds along side and squeezes in on freeway at last minute to get off at the Kapahulu off. On Kapahulu I'm two cars behind, a Lexus SUV is between us. In right lane is a yellow school bus/van stopped, red lights flashing, stop sign folded out on left side of van, also with red lights flashing, and sign on rear of van clearly proclaiming "Unlawful to pass when red lights are flashing". Apparently english reading comprehension is also not a required skill of taxi drivers. The taxi minivan zooms past the school bus, as does the Lexus. I stop, the bus turns off its signals and I catch up with the idiots at the next light. Taxi plate was BBJ 641, control ID#on dome light 86364, bumper decal T2862, unfortunatley company name only on front of dome light I couldn't identify.
(0)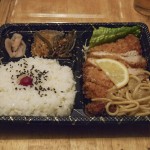 Fairly new bento place, the Moilili location itself a new building. Finally got around to trying Kokorotei. They're tag for uniqueness is that they make the bento fresh at time of ordering. Picked up a tonkatsu bento and a aji fry bento (not on regular menu). The size is a reasonable size, not humongous USA size (I'll rant about this later in a SLC entry) and reasonably priced. The quicker its eaten, the better, esp for fried items. I hit heavy traffic heading home so it wasn't piping hot fresh, but I can happily report that the bento were excellent. A step above what you'll find at what passes as "depato"s here. The rice warm and fluffy, not cold, hard and clumped together. The entrees still crisp and not dried out. The katsu had some nice "marbling" going on, it wasn't a totally lean cut. Doesn't bother me as I'm not eating it every day, and the portion size was reasonable. The kiriboshi daikon and kinpira were nicely flavored and cooked. The shoga side was nice, a touch different from what you usually get with your sushi. The little piece of ornamental lettuce not wilted. The bed of cabbage the entree was on was soggy, but that was because it seemed to have been dressed with some kind of light vinager mustard dressing. If anything, the bonus little squiggle of spaghetti was the one unremarkable item. I believe the sides vary. Continue reading 'Kokorotei'
At Denver International Airport, after a early rushed airport vendor Mexican, we find out our plane has some kind of issue & is being taken out of service. Replacement being flown in won't be here and ready for four hours at least. Looks like spending the day at DEN. Hey, maybe I can call work to legitimately say flight is delayed, go rent a car, and go hit a Colorado slope!
Getting ready to leave for airport & leave Salt Lake, of course another 7 inches of snow. What a tease to make us want to come back.
Saturday morning wake early, Solitude reports 5″ overnight, and still snowing. We join the caravan of weekend warriors heading up the canyon road to the resorts but arrive at Solitude as one of the early birds. A weekend with good snow and still no big lines, I'm getting to like this! We head up to the very top I asking one of the hosts he said the back area, Honeycomb was open. We make our way up there to be greated with high winds and a closed sign. Second time up it is open and we drop in. The high winds make for not so great conditions and we take the "easy" ride out which end up flat and sucking majorly. I'm not a happy camper. We break for lunch, I decide to dump my pack in a locker. The snow is really dumping now, and with a light load I feel much more positive. Hook back up with Dave & Derek & we session the front mid section until the lifts close. Lots of fun snow to find, and it's still dumping! And the snow that is falling now is real powder snow. Too bad this is our last day, but bodies are thoroughly sore and worked. I have to say after a bad start, the rest of this trip was excellent, I will be back!
Friday, another clear sunny day. No new snow, lazy morning & head to Solitude mid morning. Zero crowds, snow surface looks ok, anythings better than the ice & rain soaked stuff we saw earlier. See some inviting stuff still on the sidelines. Heading to the top. When I asked, lifty said he'd go for it and do the backside into Honeycomb area, so that's where we go! Unfortunately the traverse burns already worked legs. We find a nice little kicker in an open field out in the sun, have lunch and end up seasoning the jump for the rest of the day. Jumping is fun'
Thursday dawns clear, only a couple inches of snow at some of the resorts from the remnants of yesterday's wonderfulness. We decide to try Brighton again. Winds are calm this time, and no crazy lines. I think at most we wait behind two rows of people. Bluebird sunny day, and there still are fresh lines to be found all day. Not quite as nice as yesterday, there are more patches of icy that get revealed, but still nice conditions. It still amazes me how so much people love to stay on the groomers. It's like getting a mountain bike and riding it only on the street. Again we are enjoying the riding so much that lunch is done on the go, although this time we do actually take time for it.
No new snow in the forecast until tomorrow night, so we need to get it while it's still there!