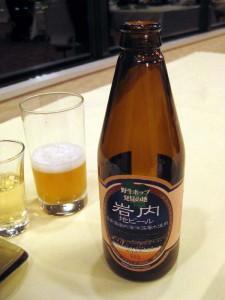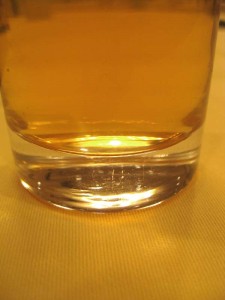 One of the fun things about travelling around Japan is trying out regional food and beer. While in Iwanai on the Southwest coast of Hokkaido on the Sea of Japan, I had a chance to try this local offering. Considering that the farming belt above the coastal town of Iwanai was where hops were first cultivated in Japan, and this is where Sapporo Breweries sources the hops for their "all Hokkaido" Hokkaido Meibutsu "gold can" lager, I was expecting at some kind of mind-altering hops experience from this beer, particularly since it was labelled a "pilsner". I was disappointed. Perhaps I should have been expecting something more from the "deep ocean seawater" also called out on the bottle labelling of this rather watery beer. This is another case like the Otaru Bakushu beers where you can start out with premium ingredients and still produce an unremarkable beer. The initial pour and good head excited me, but the first sip fell flat. There was a good carbonation dry bite, but as that faded out, it was replaced with neither a malty richness nor a hoppy bitterness. There was a faint flowery hop aroma if I tried really hard to detect it, but it was otherwise a rather bland beer. I guess I should be glad that it was mild and easily drinkable, as opposed to being strongly flavored in a negative way.  I didn't hate it, but I didn't love it either.
Somewhat recommended (if you're in Iwanai, you'd be remiss in not trying it)
A little less than 600-yen if you get it in a hotel. Street price is probably around 450-yen if you can find it!
5.0% ABV
Two-and-a-half out of four drunken monkeys