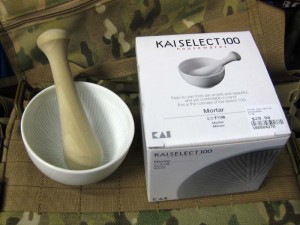 I needed a mortar and pestle to grind up spices for masala chai, and I just so happened to see one in the knife display case at McBike, so I picked one up. The price was right at $29.98 USD plus sales tax, which is pretty much what it goes for online (MSRP is $50). The mortar body is made from a white glazed ceramic and measures about 10cm in diameter and about 6cm high. The glaze is absent from the foot of the bowl as is normal with ceramic ware. It would be nice if there was a ring of silicone there to keep it stable on a countertop, but the size and shape make it perfect to hold in the hand while using. The inside of the mortar is ridged like a traditional Japanese suribachi, but the ridges are glazed over to provide a slightly less aggressive surface. The nihongo labeling on the box identifies this as a "mini-suribachi", but the overall shape is more hemispherical rather than the conical shape of typical suribachi.
The mortar is turned from wood, indicated as cedar (wonder if it's cryptomeria/Japanese cedar/sugi?) on the box. It is about 14.5cm long with a 4cm working end, 2cm waist, and 3.5cm terminal knob. The length is just right to get a full grip and bear down on hard materials in the mortar while indexing the heel of the palm on the rim or the mortar for stability.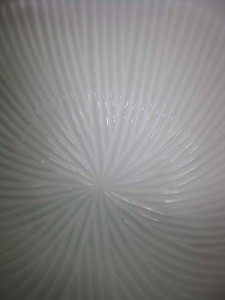 For what I'm going to use it for, the inside texture will be a plus. It will allow for a good coarse grind. If you are looking to make a finely milled powder, this is not the right tool for you. It will get down to a medium grind, which is fine for spices or things like sesame seeds. I guess if you were just cooking for one, you could use it for normal suribachi tasks like grinding up sardines for tsumire. The glazing on the inner surface makes it easier to clean and less likely to retain smells or flavors than an unglazed suribachi, and it also is kinder to dishcloths and sponges. I'm pretty sure it's dishwasher safe, although this isn't called out on the box anywhere.
Highly recommended
Four out of four masala chai sipping monkeys
$29.98 USD plus sales tax
Made in Japan!