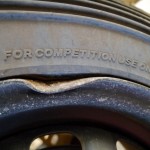 Saturday was the first race of what is the third season of RallyCross. Three? Wow! Anyway, they're doing a bunch of work at KRP and us being the orphan racing event that kinda gets ignored by the track owners, we don't pull in spectators after all, we got stuck into  a small space. We made the best of what we could and it was a fun day. The back corner however was uncompacted and soft. It quickly turned into a rutted moondust silt fest mixed with rocks and mini-boulders.  One of my first runs I managed to do this number to the front driver side rim. Didn't blow the bead though. After the morning heat, I rotated it to the rear and aired up the tire. It held for the rest of the day.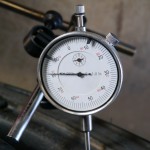 I checked it out today and put the runout guage on it. Almost reached .3 inches, wobbly wobbly! I think it'd be pretty hard to pound that straight with a hammer. Time to visit the junkyard again, or pony up for some rally rims, if they even make any in my size.
I also want to do something about the suspension. The current stock height is actually not bad, it runs pretty high with the rally tires. I dare say it's got as much clearance as some SUVs out there. But what it needs are some higher rate springs with better dampers. With the stocks springs they compress way to easily and bottom out on the stuff we do. Looks like I might need to search for another custom job.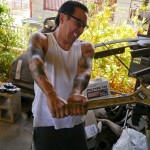 So the race was Saturday, on Sunday Scatman came on over and we worked on rebuilding his master cylinder. He'd been experiencing sinking pedal without loss of fluid so the thought was a leaky internal piston seal on the master. The PIA thing is it's under the floorboard. The inconvenient location means you need to open up an access panel in the floor the get to the cylinder and resivour and that led to it being neglected for more than a couple years. Once we finally got it out, the neglect showed up in lots of gunk in the cylinder, and some fairly significant corrosion in the piston walls. We ran a hone through to clean it up as best as we felt and replaced the internals. As things go on car work, the work on this went well. We finished just in the time we had for the day.