Dang it, weather had been good through the week, with nice cool temps. The Friday it clouded in with occasional passing showers. It wasn't enough for us to call off a ride, so Dave and I headed out to Sunset Hills. In Kaneohe it was overcast but not actively raining, not a surprise there. It wasn't exactly positive, but we loaded up and headed out anyway. The drive out was likewise not entirely positive, but not bad enough to give up. It was relatively clear in spots, although when we got closer to central Oahu we could see the Waianae range socked in with dark clouds. As we got through Wahiawa and heading down toward Haleiwa we could see more dark clouds and rain in the distance exactly where we wanted to go. Curses! The nearer we got, the worse the rain got. We are not riding today.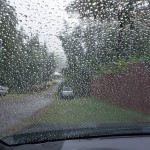 We came all this way so we drove to the parking area anyway, and this is what it looked like. There actually was a fair number of vehicles already here, so there were people in the trails. But Dave and I had no desire to slog about in the high clay content mud here and ignore the signs posted admonishing against using the trails when muddy.
Damn Grinch doing everything he can to make this a humbug holiday season! Been in a sour mood the past weeks at work, traffic's been horrible. Someone rear ended the FR-S Friday (no damage). And now no ride.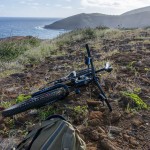 To add some insult, here's what it looked like later at home! Since I had all the gear prepped, I rode around nearby. At least that went ok, although I did throw the chain into the rear spokes….