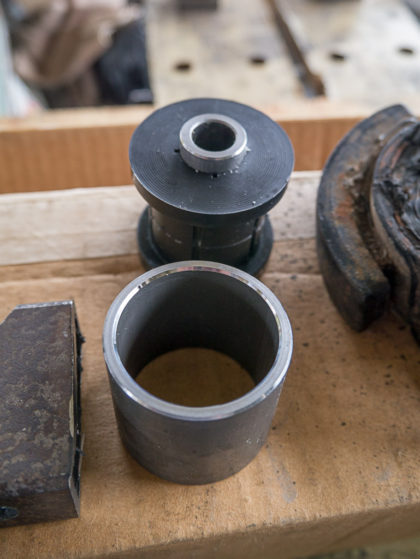 The ongoing saga of the rally FX, I was able to put the repaired transmission back in and made the event. Unfortunately had engine driveablity issues, at one point on my last run it stalled out and would not restart. At the end of the day, it did start and I got home under my own power, so that was good. Waiting on a replacement fuel pump ordered from, yes, Amazon. In the meantime, the parts I ordered from Ruffstuffspecialties came in. No, they are not a brand of questionable prophylactics, they sell parts catering to off road vehicle fabrication. I got a bunch of their "bushed DOM sleeves" in custom length of 2″. My plan is to fabricate replacement engine/transaxle mounts with these. The one I welded solid seems to be creating too much stress. In fact when I crawled under after the event, the bracket had come loose from the bellhousing again. No damage to the threads, but this just wasn't going to work. The bracket was also deformed and not sitting flush.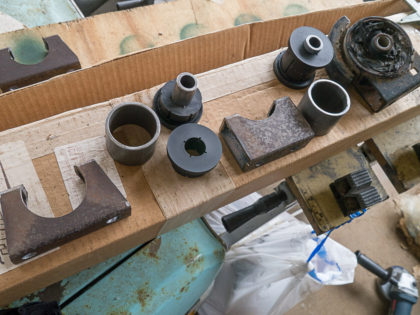 So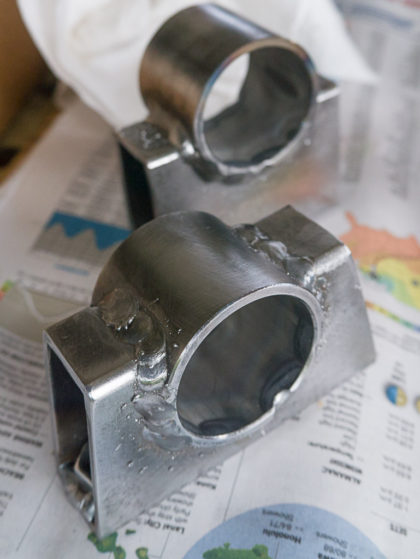 here are the parts I got together. I ground down the DOM tubing and the center tube to better fit the original metric brackets. The base I made from 1″x2″ rectangle tubing.  After a days work with a hole saw, drill press, grinder, hand files, MIG welder, wire wheel and sandpaper, here's what I ended up with.  Hit it with the POR-15 and hung them up to dry overnight.
The finished products waiting installation, looks decent considering! Hopefully these hold up to the strain, while giving enough cushion to keep the brackets from getting damaged.